Its Yachting, not Cruising. Enjoy the Difference
SeaDream Yacht Club?is a family-owned company. SeaDream's sole Founder, Owner & Chairman, Atle Brynestad, founded Seabourn Cruise Line in 1987 and was its Chairman and CEO during its initial years. He has also served as Chairman of Cunard Line Ltd. and as a board member of Carnival Cruise Lines.   
Established in 2001,?SeaDream Yacht Club?launched with twin mega-yachts, SeaDream I and SeaDream II, and has achieved the industry's highest accolades. "It's Yachting, Not Cruising" defines SeaDream's mission: to provide a casual yachting experience that exceeds guests' expectations as they explore the world's most amazing destinations. This is our pleasure.  
The SeaDream team, both shoreside and aboard,?enjoy knowing they are providing unprecedented levels of luxury and service. SeaDream's guests appreciate that whatever they choose to do (or not to do, for that matter) during their yachting holiday, they will be?experiencing one of the best vacation experiences at sea. When designing SeaDream Yacht Club, Mr. Brynestad knew it would be the attention to detail and all-important impeccable service that would define yachting in the true sense of the word.
All guest rooms have an ocean view and the SeaDream experience is inclusive. Whether dining al fresco or in the salon, relaxing by the pool or enjoying a spa treatment, playing a round of golf in a golf simulator or taking a mountain bike ashore and exploring the port of call, our guests know that they are experiencing the most personalized and pampered holiday at sea. SeaDream I and SeaDream II itineraries are designed to call upon the most intimate ports, harbors and yachting playgrounds that larger ships cannot reach. 
From May through October, SeaDream I and SeaDream II sail the Mediterranean Sea. From November through April, the twin, mega-yachts visit the turquoise waters of the Caribbean. 
To ensure that guests experience all that each specially selected port of call has to offer, many of the itineraries feature overnight stays in some of the best yachting ports and harbors in the world.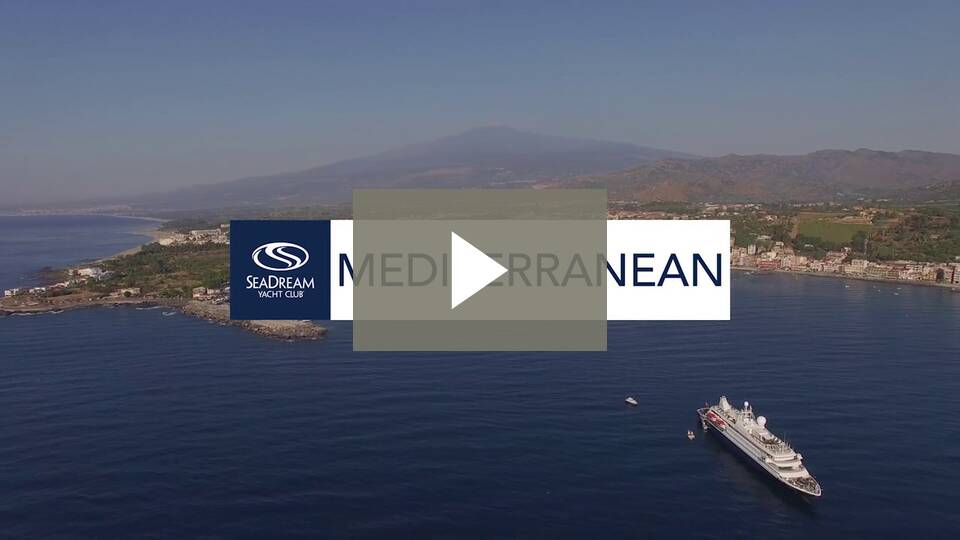 Luxury Mediterranean Cruise – Intimate European Voyages
Service
Highly Personalized, Award-Winning Service
SeaDream's award-winning 5-star service is second to none. From the moment you are welcomed aboard by the Captain, it feels as if you are being welcomed onto your own private luxury yacht. With a maximum of 112 guests and an award-winning crew of 95, the crew to guest ratio provides each guest with SeaDream's incomparable style and expert attention to detail. The service aboard either of SeaDream's twin mega-yachts is comfortably transparent, like the way the bartender knows your name and what you would like to drink, or how the waiter knows how to surprise you with your favorite dessert. Your crew is passionate about delivering highly personalized and anticipatory service. Once you experience SeaDream's inimitable service, you will be, "Splendidly Spoiled" and you may never want to go on a cruise ship again.
Cusine
Experience what wining & dining on your very own yacht would be like with our expert chefs and sommeliers. We are dedicated to offer the best experience possible for each of our guests, including excellent gourmet dishes and the finest wine selection at sea. Our multi-course menu is specially designed with elegant, light portions in mind so that an entire service may be enjoyed, from introductory first courses, to decadent desserts, to expertly paired wines. It's a gastronomical experience that will have you indulging in every bite. Bon Appétit!
Indulge in a Signature SeaDream experience with our gourmet 5-star dining, prepared à la minute and served al fresco at the Topside Restaurant or in the elegant Dining Salon. Immerse yourself with delectable flavors with selections like a guest favorite- L'oeuf Poule Au Caviar "Surprise", succulent lobster, filet mignon, and delectable desserts.
Aside from the main menu, SeaDream offers an "Always Available", à la carte SeaDream selection of favorite cuisine dishes. Dining experiences also include Welcome Aboard cocktails and hors d'oeuvres, daily Early Risers Coffee, Topside Restaurant lunch dining, poolside sandwiches, afternoon snacks, tea service and freshly baked Small-Batch Dream Cookies and pastries. SeaDream's menus also incorporate gourmet coffees and herbal tea selections, which are available anytime upon request.
Onboard
We welcome guests with the "SeaDream treatment" from the moment they come aboard. The yachting experience begins with a warm welcome from the captain with cocktails and hors d'oeuvres. The rest is up to you. Whether by day or night lounging on our signature Balinese Dream Beds, indulging in our Dream Cuisine, sipping a SeaDream cocktail at the back of the yacht, relaxing in the SeaDream Spa or being active with our Watersports Marina, this is your yacht, make it uniquely yours.
Be splendidly spoiled throughout the day. Signature SeaDream features include our Balinese Dream Beds for lounging at sea and the Watersports Marina Platform where you can enjoy water sports right off the back of the yacht. "Seas the Day" the SeaDream way.
What is yachting without the proper toys? SeaDream's Marina is equipped with all of the water sports equipment required for a proper yachtsman's vacation. Multiple Marina days allow for more time to enjoy the Personal Sailboats, Hobie Cat™ Catamarans, Kayaks, Banana Boat , Tube, Wakeboards & Waterskis, Snorkeling Gear, Floating Island & Trampoline, Stand-up Paddleboards and Wave Runners/Jet Skis . The Marina crew is always available to ensure your safety and enjoyment (weather permitting).
Shoreside
With every morning, comes a different and exciting adventure on SeaDream. Yacht to multiple destinations with voyages that include more overnights, less crowded ports and professionally guided tours with SeaDream Yachting Land Adventures. Embark on an adventure with our highly informative crew to help you make the most of your experience on land. Explore world-renowned beaches, historic wineries, iconic cathedrals or bucket-list landmarks and make endless, unforgettable memories.
Our complimentary, shoreside crew-led activities include hikes and walking tours, shopping with the Chef, mountain bike rides for private exploration and so much more. If you're feeling more adventurous, check out our Yachting Land Adventure excursions which can be booked and purchased on board. The excursions are designed by our Activities Managers to be enjoyed in small groups so each guest may experience the dream destinations to their fullest.
Wellness
Escape and unwind peacefully onboard with our very own version of paradise, the SeaDream Spa. Spoil your mind, body and soul with the only Thai-certified spa service at sea. A sanctuary of relaxation and tranquility, the SeaDream Spa is an indulgent experience to complete any SeaDream vacation. Our highly trained Thai-certified therapists offer an extensive range of spa favorites including Sisley Paris treatments, Radiant Facials, Detoxifying treatments, Soothing Aroma Massage and Traditional Thai Massage for men, women, and couples.
Private Yacht Charter
Are you searching for the perfect way to reward your business team for their success last year? Looking for a private getaway to offer friends or family an escape from their daily routine? Want a unique and intimate wedding that your guests will talk about the rest of their lives? Offering a remarkably different vacation experience, a SeaDream Charter is the perfect solution. If you want a private yacht cruise that all your guests will remember, your journey starts by sending a request to be contacted. Benefits of Chartering with SeaDream:
Up to 112 guests in an intimate, open unstructured setting
1 to 1 guest to crew ratio, resulting in thoughtfully personalized service
Enjoy privacy, intimacy and security aboard a mega yacht
Inclusive of all gourmet meals featuring award-winning, customizable cuisine
Includes Open Bar and wine with lunch and dinner. Gratuities included
All guests may dine in one seating in the Dining Salon or Topside Restaurant
Meeting spaces to accommodate up to 112 guests
All ocean view suites and staterooms
Customized itinerary calling on small, intimate yachting harbors
An Example Cruise
Dubrovnik to Athens
26th June-4th July 2022
The Itinerary:
| Date | Ports of Call | Arrive | Depart |
| --- | --- | --- | --- |
| Jun 26, 2022 | Dubrovnik, Croatia | 2 PM – 4 PM (Embarkation) | Evening |
| Jun 27, 2022 | Kotor, Montenegro | Morning | Evening |
| Jun 28, 2022 | Sarande (Butrint), Albania, Albania | Afternoon | Evening |
| Jun 29, 2022 | Fiskardo, Kefalonia, Greece | Morning | Evening |
| Jun 30, 2022 | Itea (Delphi), Greece | Morning | Afternoon |
| Jun 30, 2022 | Corinth Canal (Transit), Greece | Evening | Evening |
| Jul 01, 2022 | Santorini, Greece | Morning | Late Evening |
| Jul 02, 2022 | Mykonos, Greece | Morning | Evening |
| Jul 03, 2022 | Hydra, Greece | Morning | Evening |
| Jul 04, 2022 | Athens (Piraeus), Greece | Morning | 8 AM – 10 AM (Disembarkation) |
Latest Rates
Request a quote